Back in 2012, I realized there were three things I wanted to do with my life (besides the usual practice of eating, sleeping, and being kind to people and animals). Those three things were write, walk, and sail, and I set out to do them as often as possible.
Since 2012, I have found ways to spend most of my time writing, walking, or saiing, and I discovered that the three activities feed each other. I write about walking and sailing. When I walk, I develop the mental endurance to help me write and sail. When I sail, I develop the patience to help me write and walk.
So I was happily going along and singing my song when I received an email from VoiceMap. Would I be interested in writing walking tours for their app? It sounded fun, so I said yes.
VoiceMap uses GPS technology to take the walker on a set route in a particular place. You start at the starting point, and I tell you all about it. Then I tell you how to get to the next spot which will trigger the next bit of audio and so on along the route.
VoiceMap also encourages its tour writers to be creative, tell stories, show people our own corners of the world. When friends and family visited Los Angeles, I would play tour guide and show them around. I liked learning a few key facts about a place and pointing out the sights along the way.
Writing the VoiceMap tours, I imagined the listener as my friend, and that freed me up to be random and tell jokes. If I didn't like a particular statue, I could say that. If we passed my favorite coffee shop, I could recommend it.
VoiceMap's editors encouraged to bring myself into the tour. After all, I was the one speaking on the audio tracks, and they continued to support me in the recording process. Coming out of a theatre background, I knew I had to become an actor playing myself. Not so easy. I never liked the sound of my own recorded voice. But I relaxed, took a deep breath, and started to speak.
Once the audio was added to the tour, I had to test the tour to make sure the GPS points matched the audio. Yes, I had to listen to my own voice, but I removed myself from the listening. I became analytical without being overly critical. And I got to walk around some of my favorite spots in LA one more time.
As of right now, I have four walking tours on VoiceMap: Culver City, Marina del Rey, Venice Beach, and Santa Monica Pier. I hope any potential walker has as much fun walking them as I had putting them together.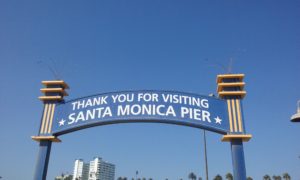 If you're interested in writing your own VoiceMap tour, you can go here.
If you're interested in finding out which VoiceMap tours are near you, go to this spot.
Keep walking, my friends.